A wonderful end of spring, a wild luscious garden, the queenly snake Goddess and other nice things of these days
Una meravigliosa fine di primavera, un giardino lussureggiante e selvaggio, la dea serpente e altre cose carine di questi giorni
(Il testo Italiano segue quello in Inglese)
Dear Newsletter friends,
The May is almost over and personally I am both amazed and surprised about how the time has been flying in the last period.
My wife and I are back to our village, and it feels so good to be here: back to our garden, to our cats, to our lovely home we have been truly missing. My entire body rejoices.
The garden is a bush of wild flowers; we planted fava beans and onions before having to leave in a rush: they too have been growing but they are all submerged by the high grass, poppies and wild daisies that have been blossoming all around the garden.
The day after arriving we went for a walk in the forest closed by, and an elegant majestic black snake crossed our road: I am so grateful to have been spotted her as I felt like she, too, came to welcome us. And few days after that, a big moth came too: she was in front of our window, on the floor, and I saw her just by accident. I went to see her closer, and as I approached she opened her wings, telling me "I am here, I am alive".
I've thought she was wounded, but then she start to walk while flapping her wings around, and then started to rise up and fly as a heavy object does: with some fatigue. Moths are the symbol od optimism and fragility: they always tend to go toward the light, but at the same time they have a very poor sight, that makes them an easier target for small predator. Optimism and weakness. While seeing her I felt her message for me, for us: we all are fragile and weak at some point of our life, but our strength rely on the light.
---
Two nice videos.
"Roses Sing on New Snow" narrates the story of a Chinese girl. She is a wonderful cook but because she is female, her (male) relatives tend to take advantage of her and her talents. Until someone proves her merits.
"Memo" a short video talks about the life of an old guy, his weak memory and his relations whit his daughter.
---
That's all for now. For your information, in the Italian section I share few of my recent articles, so if you can read Italian you too can have a look there.
Thank you for being here, it is an honor for me :)
Till the next time.
With love,
Virginia
---
In Italiano da qui:
Cari amici di questa Newsletter,
Il mese di maggio è quasi finito e personalmente sono davvero sorpresa di come il tempo mi sia volato in quest'ultimo pazzo periodo.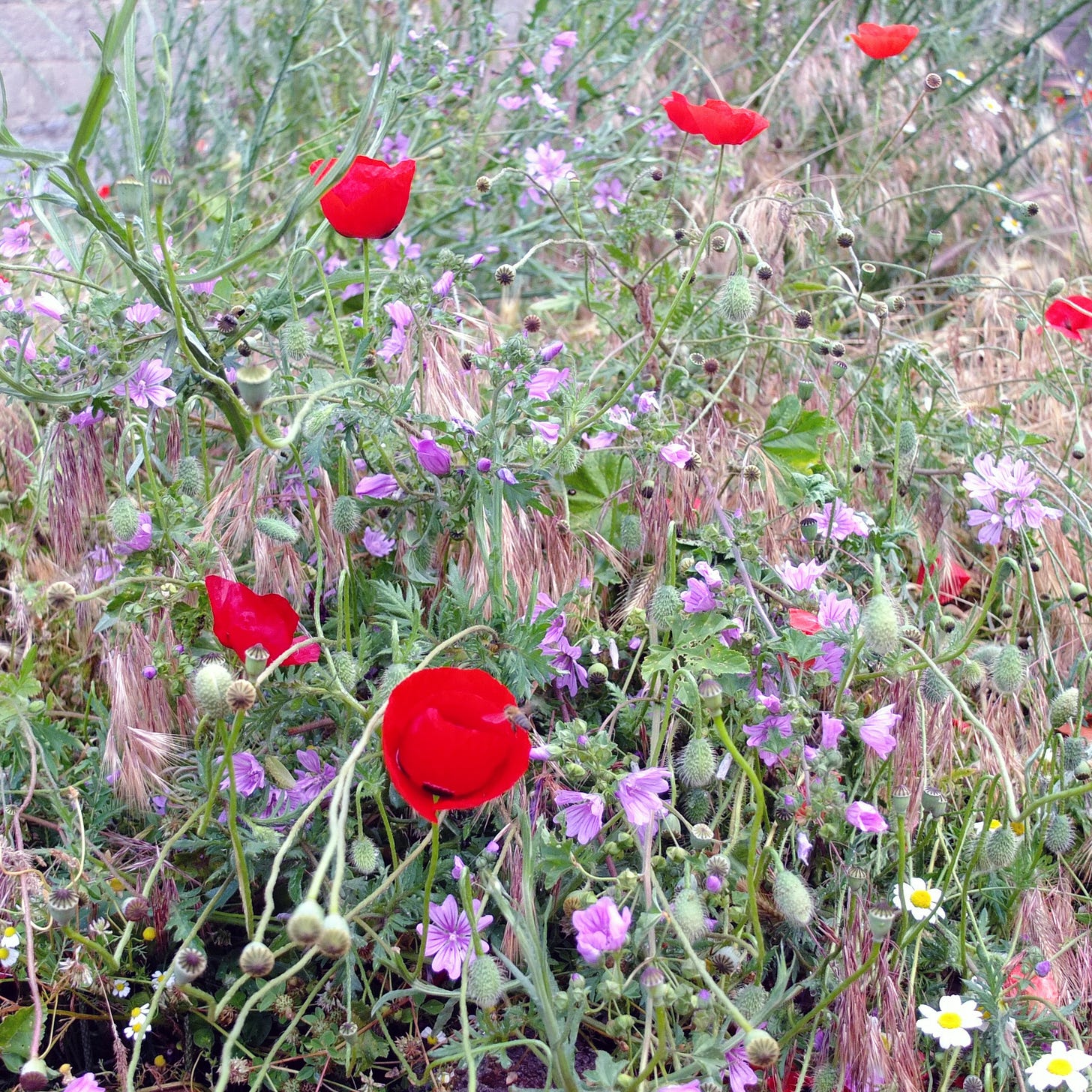 Mia moglie ed io siamo finalmente tornate al villaggio ed è così bello essere qui! Rivedere il nostro giardino, le nostre gatte, la nostra adorabile casa. Il mio intero corpo ne gioisce.
Il giardino è un bosco intricato di fiori selvatici; abbiamo piantato fave e cipolle prima di dover partire di fretta: anche loro sono cresciute nel mentre, ma sono tutte sommersi dall'erba alta, dai papaveri e dalle margherite selvatiche che sono sbocciate dappertutto.
Il giorno dopo il nostro arrivo siamo andate a fare una passeggiata nella foresta vicino a casa nostra, e mentre camminavamo, un elegante maestoso serpente nero ha attraversato la nostra strada: una striscia zigzagante e lucidissima è passata a pochi passi da noi, veloce e silenziosa: mi sono sentita come se anche lei sia passata di lì proprio in quel momento per accoglierci.
E ancora, pochi giorni dopo, è arrivata anche una grande falena: era davanti alla nostra finestra, e l'ho vista per caso. Sono uscita per andare a vederla più da vicino, e mentre mi avvicinavo, lei ha aperto le ali, come se mi dicesse "Sono qui, sono viva".
Ho pensato che fosse ferita, ma poi ha iniziato a fare passetti in circolo sbattendo le ali e dopo ha iniziato a sollevarsi in aria e volare: sembrava affaticata, ma ha fatto il giro intorno alla casa ed è scomparsa. Le falene sono il simbolo dell'ottimismo e della fragilità: tendono sempre ad andare verso la luce, ma allo stesso tempo hanno una vista molto scarsa, che le rende un bersaglio più facile per i piccoli predatori. Ottimismo e debolezza. Nel vederla ho sentito il suo messaggio per me, per noi: arriva un momento nella vita in qui tutti possiamo sentirci fragile deboli, ma la nostra forza dipende dalla luce.
---
Due bei corti
"Roses Sing on New Snow", narra la storia di una ragazza cinese, una cuoca davvero dotata, ma poiché è femmina i suoi parenti (maschi) tendono ad approfittare di lei e dei suoi talenti. Fino a quando qualcuno non dimostra i suoi meriti.
"Memo", un video che parla della vita di un signore, della sua memoria debole e della sua relazione con sua figlia.
---
Scritti da me
Un articolo che parla del pangolino, della sua situazione attuale, della sua possibile futura estinzione.
Un articolo di approfondimento sul tema della sovrappopolazione mondiale: parlare di sovrappopolazione è necessario, oggi più che mai. Ma quello della sovrappopolazione è anche un discorso delicatissimo e talmente complesso che non può e soprattutto non deve essere affrontato senza una visione critica e oggettiva della struttura della società stessa.
Per Yanez Magazine ho curato l'introduzione a un film di Roman Polanski, per "I 33 migliori film degli anni Sessanta": Parlare di Polanski non è stato facile, ma mi è piaciuto farlo.
---
Questo è tutto per ora. Sono davvero felice che tu sia qui :)
Con affetto e gratitudine,
Virginia