The captainess of my own sailing vessel
Una donna d'animo nobile e cuore pulito si affida al vento e sa dove andare
(Il testo in Italiano segue quello in Inglese)
Dear beautiful readers of The Fairy Queen's Newsletter,
June has arrived and I've just realized the half of this powerful month is already over! The weather here is marvellous, and we are having an amazing time in our home at the village; everyday I spend some time in the garden, sitting an watching the beautiful hills and mountains around me and listening to all the sounds of nature. This for me is so precious and I feel so grateful for living in such an amazing place… How have you been these days?
Personally, I have been on a journey to find clarity in my mind and in my heart. Now everything – what I want, where I am leading my life to and how – starts to be more definite and transparent again. Yes, it is time to celebrate! Actually, those moments happen quite often in my life; sometimes the changes they need to activate and bring within are deeper; sometimes these shifts are more superficial thus it's easier to go along with the challenges they bring, but what I am more and more learning is to accept that these moments will eventually occur, and although sometimes it feels uneasy and difficult to cope with them, they are a blessing since they are bringing a new fertile period in my existence and a new layer of consciousness. For this reason I am grateful for them to happen.
In the meanwhile, it has been few days I am having a vision I'd like to share with you, since it is a powerful one. I see a noble, strong, inspired and centred woman that is leading a sailing vessel in the far blue sea. The sea is dark but not too wavy; the wind is strong. That woman is me: I am dressed with an elegant beautiful silk and long skirt and a I wear an impalpable veil; they both, the skirt and the veil, are of the very same color of the sea. The veil flies with the strong wind that also pushes the boat. I am very concentrated to see the direction I am going toward as the wind is naturally bringing me and my vessel where we need to be. The feeling this vision brings in is so strong: it tells me that sometimes, instead of having everything under control, I can learn to allow a more elastic level of freedom, I can just relax and sit back and see where I will be leaded to, still feeling inside me strongly where I'd like to be. The interesting part of this vision is that I descend from generations of sailors and ship owners, but of course the ships where only leaded and owned by the men of the families: the female energy has been sealed out of their life and from their way of undertake the business in the sea. Now I am here to rebalance this energy: I am the captainess of my own boat, and I am surrounded and supported by all the sisters out there that are aligned with me, and by all my female ancestors that simply couldn't even put a feet on a boat because a woman in a boat was said to bring bad luck. Even if my boat is a metaphorical one, they are now all invited and welcome to be in with me. I so indulge in this vision that assures me that everything is possible, if we have a clear mind and a clean heart.
Greetings to all of you as I am grateful for you to be here and to read my words.
By the way, in case you can read in Italian, I list within the below Italian text of this Newsletter some articles I've been writing lately.
Till the next time and with love,
Virginia
*The paint of the vessel in the picture is from the painter Ernuld.
---
Cari lettori di The Fairy Queen Newsletter,
Giugno è arrivato e ho solo ora realizzato che la metà di questo mese è già finita! Il tempo in questi giorni è stupendo: l'aria è calda ma non troppo, alle volte una pioggerella fine compare per sparire immediatamente, lasciandosi dietro l'odore di terra e di erba bagnata; le enormi rocce che abbiamo in giardino alla sera sono bollenti e io mi ci sdraio sopra, sentendo sulla pelle tutto il potere del sole che è già molto caldo, e anche se ho delle cose da portare a termine al computer, passerei volentieri molto più tempo di quello che faccio fuori, in giardino. Come sono questi giorni per voi?
Personalmente, ho passato un periodo in cui ho avuto bisogno di cercare chiarezza nella mia mente e nel mio cuore, eppure ora tutto – ciò che voglio, dove e come condurre e gestire la mia vita – inizia a essere di nuovo più definito e trasparente. È quindi tempo di festeggiare; a volte i cambiamenti che questi periodi di dubbi e incertezze devono attivare sono profondi, a volte sono più superficiali e quindi più facili da affrontare, ma quello che sempre di più sto imparando ad accettare è la certezza che questi momenti accadranno, e sebbene alle volte possa sembrare difficile affrontarli, sono importanti poiché mi conducono a un nuovo livello di consapevolezza. E di questo devo essere grata!
Nel frattempo, da qualche giorno ho una visione in mente ed è qualcosa che voglio condividere con voi perché è qualcosa di potente: vedo una donna nobile, forte, ispirata e capace che conduce il suo veliero. La barca è allargo, il mare è blu scuro ma non troppo mosso, il vento è forte. Quella donna sono io: sono vestita con un'elegante gonna lunga di seta e indosso un velo impalpabile sulla testa, ed entrambi – la gonna e il velo – sono dello stesso colore del mare. Il velo vola con il vento che spinge anche la barca. Sono molto concentrata per guardare la direzione in cui sto andando e il vento da solo mi sta conducendo dove ho bisogno di essere. La sensazione che percepisco è molto forte: mi sta dicendo che a volte, invece di avere tutto sotto controllo, posso accettare di essere più libera, di rilassarmi e vedere dove il vento mi porterà, avendo sempre chiaro dentro di me dove mi piacerebbe essere. La parte interessante di questa visione è anche che io discendo da generazioni di marinai e armatori, ma ovviamente questi erano solo gli uomini delle famiglie: per generazioni l'energia femminile è stata tagliata fuori dalla loro la vita e dal loro modo di intraprendere il mare. Ora sono io la capitana del mio veliero, e sono circondata e supportata da tutte le sorelle là fuori che sono allineate con il mio percorso, e da tutte le mie antenate che semplicemente non potevano nemmeno mettere piede su una nave perché si credeva portassero sfortuna. Anche se il mio veliero è solo metaforico, ora tutte loro sono invitate al mio fianco. Questa visione comunica con me e mi assicura che tutto è possibile, se la nostra mente è chiara e il nostro cuore, pulito.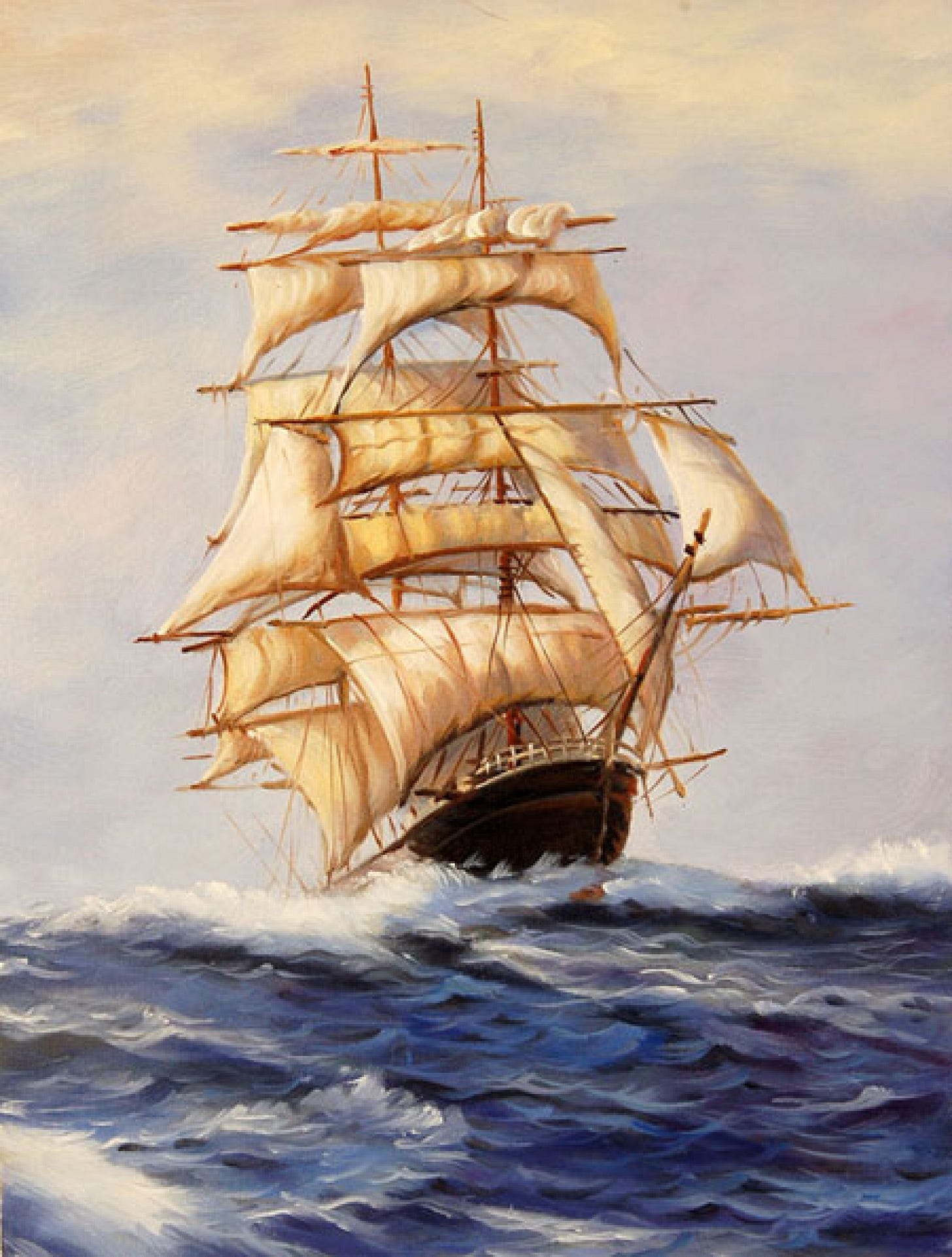 *Dipinto del pittore Ernuld.
---
Articoli
---
Grazie di cuore per la vostra presenza.
Un saluto, un abbraccio e alla prossima!
Virginia
---