Good day to you, all my beautiful readers.
(Il testo in italiano segue quello in inglese)
Today is a wonderful day, we are still in lockdown in Turkey for the weekend, but my time here in the city of Bursa is going to finish soon, and we can't wait to go back to our lovely village and beloved home. When we'll be back we will celebrate for an entire week!
Also the whole world is slowly going to be functioning again as it was before the spread of Covid-19, even if the pandemic has not been completely contained yet. I feel with this pandemic we have a chance to make things right or better, we can change habits and mind-set, we can finally start to live in a way that will sustain Life on the planet and respect it all. I very believe this change must start from us first, and everything will follow. My question is: are we ready for it? Are we ready to change our priorities in our life? Are we ready to get the responsibility of any kind of actions, choices, priorities? I very much hope so, but time will show us what is the answer to those questions.
Çide and I have been talking a bit about this topic on our closing episode of our radio show, Ebedi Yokoluş/ Forever Extinct, here the link to it for Turkish speaker friends.
---
Nice videos
Here some nice things I have been watching on the Internet lately:
Here a Ted Talk about a country, Butan, that is prioritizing the happiness of its citizens and the sustainability of the entire country over the economy growth: I personally believe they must be a inspiration for all of us.
A story of balance restored: a short cartoon about the mythological legend of Anna Purna, the Indian Goddess of nourishment. A tale we very much need to hear in our modern society.
"Father and daughter", a film by Michael Dudok de Wit, winner of many international prizes. It is another short movie that narrates the passage of time in a very poetic, charming and yet melancholic way. The drawings are superb, too.
And here there is another inspiring lifestyle video about a Chinese woman who has quit her job and lives now in the mountains. She's restored her rented house by herself mostly using recycled items and materials, and she's now making clothes out of reused material, to sell them and sustain her life. Isn't it wonderful?
---
A quote from Gerda Lerner, from her book The Creation of Patriarchy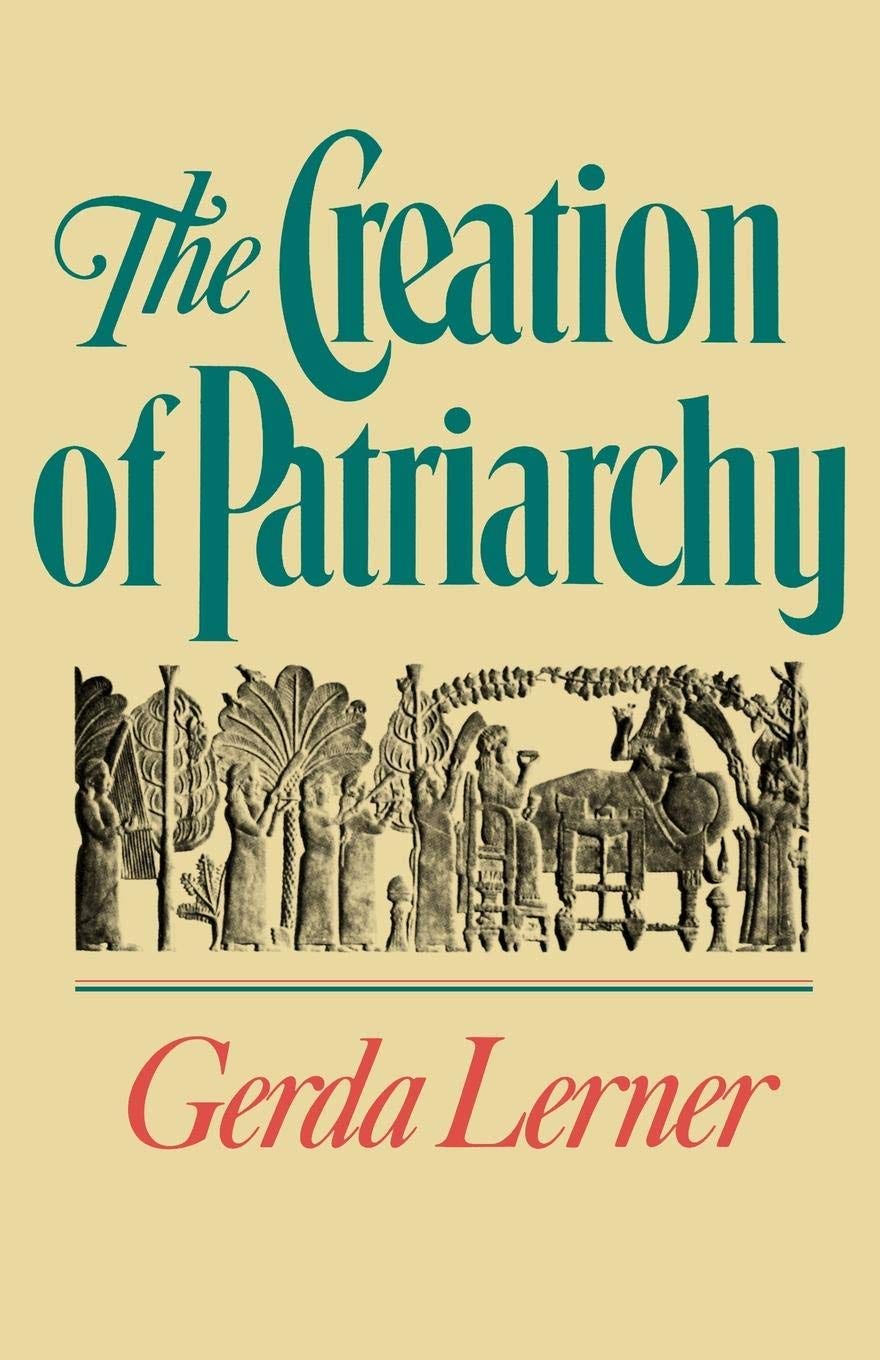 I have been watching the series "The Morning Show" that very well shows the way patriarchy and power work together. It is a wonderful series, I also recommend to watch it, if you have time. The entire series and especially the powerful way it ends, made me think of a sentence I've previously read in the Gerda Lerner book "The Creation of Patriarchy" (pag.12) I read it for you here.
---
Big Hearts, Strong Hands
Matriarchy: here an article that has appeared on The Guardian some time ago about the so called last matriarchy of Europe, a disappearing community living in a tiny island of the Baltic sea.
The pic you see here is from Anne Helene Gjelstad documentary project "Big hearts, strong hands".
---
I share more things on the Italian side of this Newsletter, if you can read Italian you can have a look to it. I talk about about some new books I've put out, and articles I've been writing.
Otherwise I thank you for being here, I am writing this Newsletter with great pleasure thinking of you.
That's all for now. Till the next one :)
With love,
Virginia
---
In Italiano da qui
Oggi è una giornata meravigliosa, e qui in Turchia siamo ancora bloccati in casa specialmente per il fine settimana, però questo periodo cittadino sta per terminare almeno per noi, e non vediamo l'ora di tornare al nostro villaggio e nella nostra amata casa.
Anche il mondo intero sta lentamente tornando a funzionare come prima della diffusione del Covid-19, anche se la pandemia non è stata ancora completamente contenuta. Sento che con questa pandemia abbiamo la possibilità di migliorare la nostra situazione: possiamo cambiare abitudini e mentalità, possiamo finalmente iniziare a vivere in un modo che davvero sosterrà la Vita sul pianeta nel rispetto di tutti. E credo davvero che questo cambiamento debba iniziare prima di tutto da noi e che tutto il resto poi seguirà. La mia domanda è: siamo pronti per questo? Siamo pronti a cambiare le nostre priorità? Siamo pronti ad assumerci la responsabilità delle nostre azioni, scelte, priorità? Lo spero vivamente, ma solo il tempo ci potrà mostrare quale sarà la risposta a queste domande.
Ho scritto un articolo a questo proposito, che parla proprio della necessità di ridefinire l'idea di successo nella nostra società.
---
Ecco qui di seguito alcune cose interessanti che ho visto su Internet in questi giorni:
Una Ted Talk sul Butan, un paese che privilegia la felicità e la sostenibilità ambientale rispetto alla crescita dell'economia: personalmente credo che quello che fanno debba essere una fonte d'ispirazione per tutti noi.
Una storia di equilibrio ritrovato: un breve corto disegnato ed edito da TED-ED sulla leggenda mitologica di Anna Purna, la dea indiana del nutrimento. Una storia che dobbiamo assolutamente fare nostra anche noi oggi nella nostra società contemporanea.
"Father and daughter", un film di Michael Dudok de Wit, vincitore di numerosi premi internazionali. È un altro cortometraggio che parla dell scorrere del tempo in modo molto poetico, affascinante e malinconico. Anche i disegni sono eccezionali.
E infine, qui un altro video che ci racconta dello stile di vita di una giovane donna cinese che ha lasciato il lavoro, vive ora sulle montagne, ha restaurato la sua casa usando principalmente oggetti e materiali riciclati. Non è meraviglioso?
---
Una frase dal libro "The Creation of Patriarchy" di Gerda Lerner
Di recente ho visto la serie "The Morning Show", una serie che ci mostra molto bene il modo in cui patriarcato e potere collaborano. È una serie meravigliosa, che consiglio di guardare. Durante tutti gli episodi e soprattutto in quello finale, ho pensato a una frase che avevo letto nel libro di Gerda Lerner "The Cration of Patriarchy" (pag.12) e che ho letto qui per voi.
---
Matriarcato: ecco un articolo apparso su The Guardian qualche tempo fa a proposito del cosiddetto ultimo matriarcato d'Europa, in una piccola isola del Mar Baltico.
L'immagine che vedi qui è tratta dal progetto di Anne Helene Gjelstad "Grandi cuori, mani forti".
---
Diverse cose che ho fato in questi giorni
Ho pubblicato in un unico volume le avventure di Widina: "Widina di Knosso/ La ragazza antica".
Widina di Knosso è la storia di una ragazza minoica che trova un portale spazio-temporale durante l'eruzione del Thera e viene catapultata ai giorni nostri, a Genova. Le sue avventure sono uscite a puntate sul sito delle amiche di Skincare&Psicofarmaci e ora sono riunite in un unico volume acquistabile qui.
---
Un nuovo libro: "Vitange Mémoire. Storie d'amori in bianco e nero"
Ho pubblicato un altro libro che si intitola "Vintage Mémoire. Storie d'amori in bianco e nero". Ispirate da vecchie fotografie trovate tra mercatini di Istanbul, Vintage Mémoire è un'antologia di storie ispirate proprio dalle persone ignote di queste foto. Il libro può essere acquistato qui.
---
Un articolo che ho scritto per Yanex Magazine e che parla della storia del Sordi, della lingua dei segni e delle ingiustizie che i sordi hanno subito negli anni.
---
Se non sapete cosa guardare: una lista dei migliori film degli anni Settanta, i capolavori del cinema di quegli anni, di cui io ho curato l'introduzione al film "Stalker" di Tarkovskij.
---
Grazie di essere passate, scrivo questa Newsletter con grande piacere pensando a voi.
È tutto per ora e alla prossima,
Con affetto,
Virginia